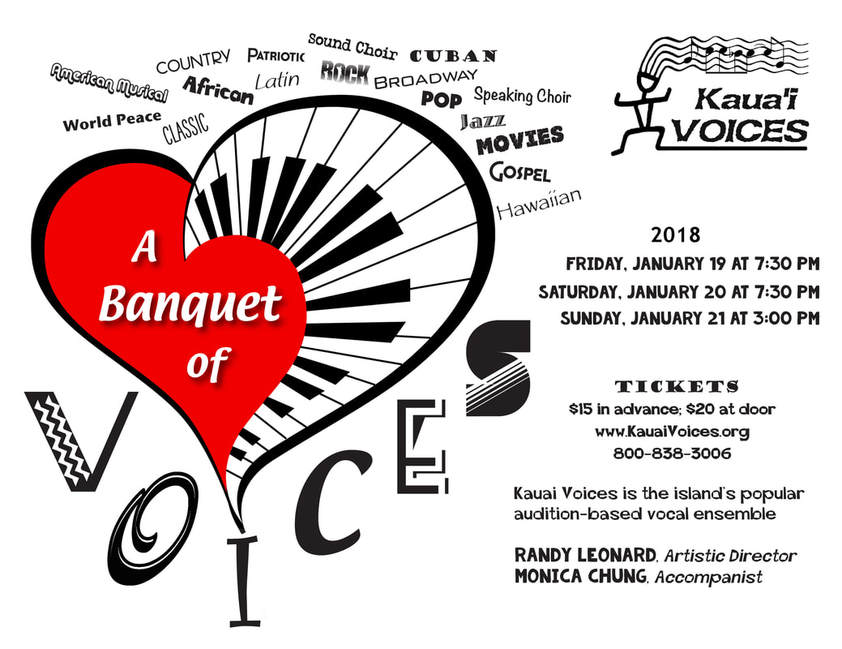 KAUAI VOICES PRESENTS A BANQUET OF VOICES DELICIOUS AND SATISFYING
Kauai Voices, the island's highly popular, auditioned 40-voice choral ensemble, will present
A Banquet of Voices
on Friday and Saturday January 19 and 20, 2018 at 7:30 PM and Sunday, January 21, 2018 at 3 PM at St. Michael's Church in Lihue.
"With a program of many different musical styles, our 14th season showcases the exceptional diversity and capabilities of Kauai Voices," said Kauai Voices Artistic Director Randy Leonard. "A banquet is the perfect metaphor for our dynamic program, which will highlight the rich variety, outstanding ability and impressive talent of Kauai Voices. We deliver it all in one inspired package."
The concert performances will feature the musical genres of pop, Latin, Cuban, Broadway, Jazz, movies, gospel, Hawaiian, American musical, world peace, classic, African, patriotic, sound choir, speaking choir and rock.
"Kauai Voices has a phenomenal ability to embrace and master a multitude of vocal/choral styles, sounds, and genres. In every season the singers have developed a higher level of skill, ability, and knowledge," noted Leonard, adding, "This season highlights the delicious 'banquet' of music for both our singers and audiences to indulge in."
"Our theme is a perfect way for us to deliver a very satisfying and exciting program, rich in diversity, quality, artistic expression, and joy," said Leonard, who has more than 35 years of experience directing vocal and choir groups. "Some songs will be familiar and some will surprise you — we invite you to indulge and enjoy all that our Voices can serve you at this banquet!"
Kauai Voices, a not-for-profit 501c3 organization founded in 2011, produces two seasons of concerts each year in Lihue. The shows feature a different theme each season with many different styles and genres of music. The group typically is accompanied by piano, an instrumental ensemble, and also highlights soloists, duets, and small vocal groups.
Tickets for
A Banquet of Voices
concerts are $15 each in advance and $20 at the door.
Limited number of Special VIP seats available each performance at $25, purchase online only
(early admission and your choice of seating). To purchase tickets click
BUY TICKETS
or contact any choir member.
---
---
---
We are a 501(c)(3) charitable organization. We will gladly accept donations if you would like to support us and help spread the joy of music in our community. Just click the donate button below. Mahalo.

---
Future concert dates - mark your calendars!

SEASON 15 Kauai Voices Rocks June 22, 23, 24, 2018

SEASON 16 Aloha Around The World January 18, 19, 20, 2019

SEASON 17 Theme TBD June 21, 22, 23, 2019
---
past concert programs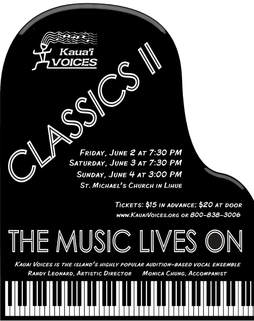 THE MUSIC LIVES ON! KAUAI VOICES PRESENTS
CLASSICS II

SECOND CLASSICS CONCERT

Kauai Voices, the island's highly popular, auditioned 40-voice choral ensemble, will present Classics II— The Music Lives On! on Friday and Saturday June 2 and 3 at 7:30 PM and Sunday, June 4 at 3 PM at St. Michael's Church in Lihue.

"We're thrilled to celebrate our thirteenth season with a fabulous and diverse program of music by some of the greatest classical composers of all time," said Kauai Voices Artistic Director Randy Leonard, noting that the Classics theme reflects the Voices' first presentation of the Classics during season five in June of 2013.

In this season, Kauai Voices explores songs from many eras — from Gregorian chants and madrigals to the Baroque, classical and classically contemporary — with compositions from J.S. Bach, Wolfgang Mozart, Franz Schubert, Baldassare Donato and Giuseppe Verdi to Morten Lauridsen, Randall Thompson and Leonard Cohen.

"The Classics are the foundation of our music from the past, the present, and for the future," noted Leonard. "This music stirs the imagination, stimulates great emotion from deep within our inner souls and reaches across generations, cultures, countries and beliefs. It stimulates intelligence, growth, and success. What would our lives be like without music? These are the rocks that built our music as we know it today."

According to Leonard, musical influences by Mozart, who is often referred to as the greatest musical genius of all time, are evident in everything from Bugs Bunny cartoons to the rock and roll of Van Halen and Billy Joel. Kauai Voices highlights his compositions of Exsultate Juilate, Requiem, and an interpretation of his Turkish March from Piano Sonata No. 11.

Additionally, Johann Sebastian Bach, created vast amounts of religious-based music, yet one of his most recognizable pieces is in the movie Fantasia, by Walt Disney, which uses his Toccata and Fugue in D Minor. And nearly two centuries after Bach composed Prelude No. 1 in C Major, another composer, Charles Gounod took the piece and added a vocal layer on top of it to create the popular Ave Maria, which Kauai Voices will sing, as well as other Bach favorites such as a piece from his Magnificat.

Kauai Voices will be accompanied by classically trained Monica Chung on piano.

---
---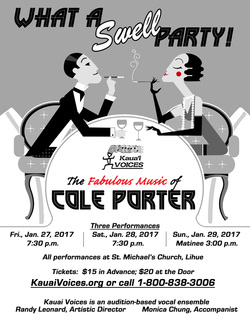 "WHAT A SWELL PARTY!"
KAUAI VOICES PRESENTS THE MUSIC OF COLE PORTER

The music of the legendary Cole Porter comes alive when Kauai Voices, the island's highly popular auditioned choral ensemble, presents WHAT A SWELL PARTY! on January 27th, 28th and 29th, 2017.

"Cole Porter is a highly acclaimed American composer of remarkable music and clever lyrics who gifted us with more than 800 songs and two dozen musicals from which to choose," said Randy Leonard, musical director of the 40+ voice Kauai Voices. "The concerts will be full of his well-known favorites, including Anything Goes, Too Darn Hot, You're The Top, It's De-Lovely, Begin the Beguine, Well, Did You Evah, Ev'ry Time We Say Goodbye, Night and Day, Let's Do It, You'd Be So Nice to Come Home To, and many, many more!"

"Porter's music is so full of wry innuendo and intrigue — reflecting his love for luxury and the high society of the 1920s, 30s and 40s ," noted Leonard, a choral director and soloist with more than 35 years of experience. "Cole Porter lived a life full of gaiety, parties and racy living in New York, Paris, Venice and Santa Monica, all of which influenced his phenomenal melodies and clever lyrics, which have captivated millions of people over the last century."

Kauai Voices will be accompanied by classically trained Monica Chung on piano, with Paul Koulbanis on guitar, Trystan Caberto on bass and Marty Leonard on percussion, as well as other local musicians.

---
---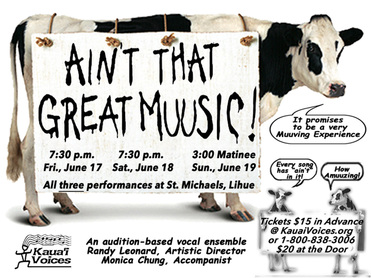 "Ain't That Great Music!"
Season 11 - June 2016

It's all about "ain't" when Kauai Voices, the island's highly popular choral ensemble, presents Ain't That Great Music!, its 11th season concerts on Friday and Saturday, June 17 and 18 at 7:30 PM and Sunday, June 19 at 3 PM at St. Michael's Church in Lihue.

"The entire show is comprised of music using the word "ain't" — and we ain't kidding about that!" said Kauai Voices Artistic Director Randy Leonard, who has collected music from multiple genres to create a show that ain't soon to be forgotten. The auditioned choir of more than 30 voices will treat audiences to songs of ragtime, spirituals, musicals, pop, jazz, rock/blues, swing, and choral classics. According to Leonard, the theme of this show began with a simple question: "I wonder how many songs use the word 'ain't'… I looked into it and there were a lot!"

Kauai Voices will be accompanied by the incomparable Monica Chung, a Juilliard-trained pianist, and a talented instrumental ensemble, including a second set of hands on the keyboard for a special 4-handed piano accompaniment on one of the songs. Leonard, a choral director and soloist with more than 35 years of experience, noted that due to increasing demand for tickets, Kauai Voices will continue to offer a third performance as a Sunday matinee.

---
---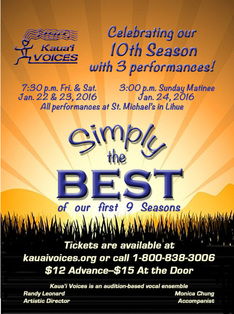 "Simply the Best"
Season 10 - January 2016

KAUAI VOICES CELEBRATES 10TH SEASON WITH SIMPLY THE BEST

Simply the Best is what Kauai Voices, the island's highly popular 40-member auditioned choral ensemble, presented in its 10th season concerts. Featuring ASL (American Sign Language) interpretation for Friday's show.

Artistic Director Randy Leonard has selected the very best music from the almost 130 choral pieces that Kauai Voices has performed during the past nine seasons. "These are the songs that have been the most memorable, and have had the biggest impact on the singers and our audiences," said Leonard. "They are simply the best — what an amazing evening of music this will be!"

Simply the Best also featured favorite instrumentalists, who joined with the singers and soloists of Kauai Voices for an authentic sound and experience, according to Leonard, a choral director and soloist with more than 35 years of experience — who with Monica Chung as accompanist — has presented two seasons a year since 2011.

---
---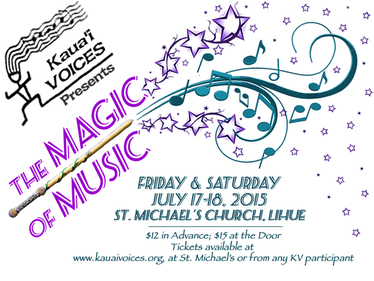 "The Magic of Music"
Season 9 - July 2015
KAUAI VOICES PRESENTED THE MAGICAL MUSIC OF DISNEY

Kauai Voices, joined by an array of talented instrumentalists, invited music lovers to Be Our Guest with some of the best music on earth — the music of Disney — at its Magic of Music concert in July 2015.

Audience members Let It Go during a magical evening of favorite songs from beloved movies and shows, including: Mary Poppins, Cinderella, Jungle Book, Aida, Pippin, The Lion King, Beauty and the Beast, Alice in Wonderland, and many more that came to life with multiple styles of music and fond memories.
---
---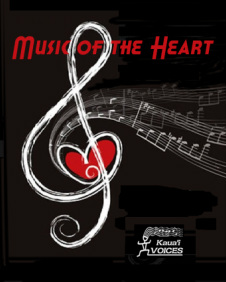 "Music of the Heart"
January 2015, Season 8

This was a memorable season with great music about love.
Good love, bad love, old love, new love, love gained, love lost…
You get the idea!
Of course, as always, it included music of many styles and genres to appeal to everyone and to stimulate your senses.





---
---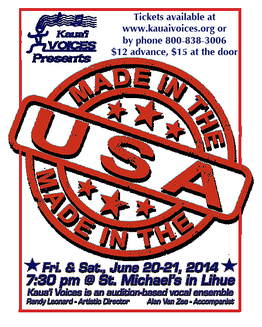 "Made in the USA"
June, 2014 - Season 7

For Season 7 Kauai Voices presented Made In The USA,
music that we love from our home country.

Created and presented by Artistic Director Randy Leonard, with Alan Van Zee as accompanist, Kauai Voices will celebrate the American musical spirit.

Every decade of the 20th century was represented, with music from many well-known movies, such as "The Music Man", "West Side Story", "An American in Paris", "Forrest Gump", and "New York, New York" by such beloved composers as Leonard Bernstein, Stephen Sondheim, George & Ira Gershwin, Oscar Hammerstein, Jerome Kern and Meredith Willson and more. The audience will be immersed in the American musical spirit of jazz, folk, gospel, show tunes, patriotic tunes and pop.


---
---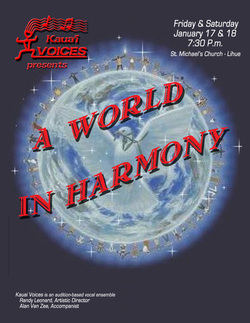 "A World in Harmony"
January, 2014 - Season 6

Kauai Voices blossomed to 38 voices in Season 6 for A World In Harmony, a celebration of world diversity and a respectful nod to Nelson Mandela, with world music from 18 countries and in many original languages. Authentic musical instruments were used throughout the night, played by the many talented musicians of Kauai. The two nights were sold out, and additional seating had to be provided for all of the walk-ins for both nights.


---
---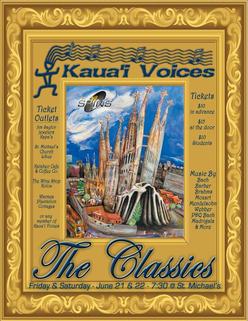 "The Classics"
June, 2013 - Season 5

The Classics were highlighted in our Season 5 show. Music by Bach, Barber, Brahms, Mozart, Webber, and even some PDQ Bach for fun and more was sung by our 30+ voices. Again we featured the Ali'i String Quartet for this show. The evening showcased many centuries of choral classics from the masters, old and new.

---
---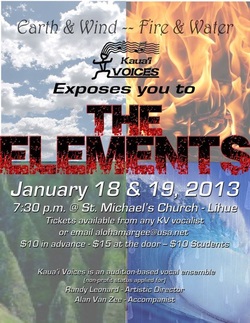 "The Elements"
January, 2013 - Season 4

Season 4 was dedicated to The Elements, Wind, Fire, Earth and Water. Earthsong by Michael Jackson, Let The River Run by Carly Simon, Firework by Katy Perry, and The Wind Beneath My Wings by Bette Midler, plus many more, created an exciting 2 evenings for our audiences. Anela Lauren added an etherial element to the night on harp. Musical levels continue to rise with the singers, achieving mastery of multiple styles of music.

---
---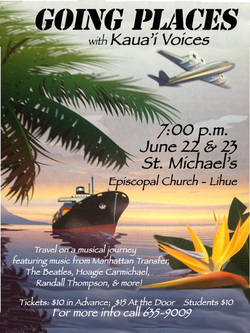 "Going Places"
June, 2012 - Season 3


Season 3 was Going Places, and Kauai Voices sang a program that took the audience on a journey. This was our first show that we performed for 2 nights to strong audiences each night. With 30 singers in vintage travel attire, we used music of Manhattan Transfer, Beatles, Hoagie Carmichael, Randall Thompson and more to drive, fly, ship and hike the crowd around the USA, Europe, Mexico, and back to Kauai. We even had our own Flight Attendant! Our guest artist was Mililani Tejada, Hawaiian singer and ukulele player, sending us off on our journey from Kauai. We began filming our shows, and then Hoike TV started to show our shows from this point forward. The ensemble achieved near complete memorization of the entire program this season.


---
---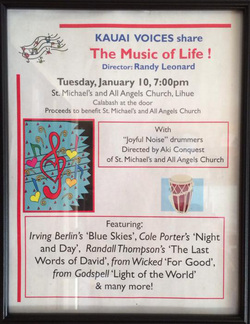 "The Music of Life!"
January, 2012 - Season 2

Season 2 was our Music of Life show. Music that embodies and inspires our lives was the theme, and our guests, the drummers of Joyful Noise, certainly added to the atmosphere! During this second season as a KCC class, the group decided to venture out as an independent organization and work toward a 501(c)(3), not-for-profit status in the future. It was the season that Kauai Voices created its own life. Music such as Blue Skies, Night and Day, For Good and Light of the World captured the excitement of the new group of about 24 voices. This year we had Alan Van Zee as accompanist, and he has been our accompanist each season since!

---
---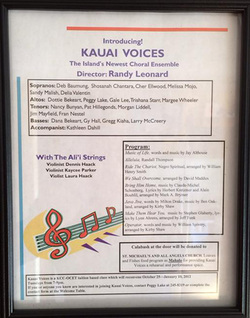 "Introducing! Kauai Voices"
September, 2011 - Season 1

Introducing Kauai Voices, was our introduction to Kauai and the music community. We were a vocal ensemble, made up of auditioned voices from all over the island. The initial group started under the wings of Kauai Community College as a class offering. With 20 voices that season and accompanist Kathleen Dahill, we opened with 8 pieces. The Ali'i String Quartet opened for us as our guests. The varied program and quality of choral sound was warmly and enthusiastically received!

---